Rue des vignerons
Book a visit & tasting at Domaine de la Noiraie in the Loire Valley wine region, France. ✔️Instant Confirmation ✔️On-site payment ✔️Free cancellation
About the winery
The family winery of "La Noiraie" is located at Benais in Bourgueil area. The winery mainly produces Bourgueil AOC red wines and Saint Nicolas de Bourgueil AOC wines but also a few Bourgueil rosé and Cremant de Loire. You will be welcomed with pleasure to taste our different cuvées.
Winery prices
Activities prices :

Free

0

Wine prices :

6€ to 10€
Useful information
Languages spoken : English, French
Payment methods :

Credit card, Bank check, Cash

Kids area

Motorhome parking
Disabled facilities

Dogs allowed

Picnic area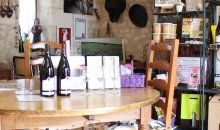 Tasting
Commented tasting
Commented tasting of different cuvées and vintages
...
More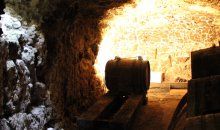 Tour and tasting
Discovery of the winery
Visit of the historical cellar and of the vinificaion cellar, followed by a commented tasting
...
More
Winery wines
Sérénade

2020 - White wine

7€

More infos

Appellation : Ajaccio

Grape variety : Chenin

Style : Dry white

Appellation : Ajaccio

Grape variety : Chenin

Style : Dry white

ok

St Vincent

2018 - Red wine

6.60€

More infos

Appellation : Bourgueil

Grape variety : Cabernet franc

Style : Fruity red

Appellation : Bourgueil

Grape variety : Cabernet franc

Style : Fruity red

ok

Les 7 Lieux dits

2019 - Red wine

7€

More infos

Appellation : Saint Nicolas de Bourgueil

Grape variety : Cabernet franc

Style : Fruity red

Appellation : Saint Nicolas de Bourgueil

Grape variety : Cabernet franc

Style : Fruity red

ok

Prestige

2017 - Red wine

7.70€

More infos

Appellation : Bourgueil

Grape variety : Cabernet franc

Style : Full-bodied red

Appellation : Bourgueil

Grape variety : Cabernet franc

Style : Full-bodied red

ok
See more wines
Prestige

2018 - Red wine

7.70€

More infos

Appellation : Bourgueil

Grape variety : Cabernet franc

Style : Full-bodied red

Appellation : Bourgueil

Grape variety : Cabernet franc

Style : Full-bodied red

ok

Plaisir d'été

2017 - Rosé wine

6€

More infos

Appellation : Bourgueil

Grape variety : Cabernet franc

Style : Fruity rosé

Appellation : Bourgueil

Grape variety : Cabernet franc

Style : Fruity rosé

ok

Bulles de la Noiraie

Rosé wine

7€

More infos

Appellation : Crémant de Loire

Grape variety : Cabernet franc

Style : Fruity rosé

Appellation : Crémant de Loire

Grape variety : Cabernet franc

Style : Fruity rosé

ok
Localisation
Domaine de la Noiraie, 19 rue du Fort Hudeau, 37140 Benais
Get my itinerary