Rue des vignerons
Book a visit & tasting at Château Siran in Labarde, in the Bordeaux wine region, France. ✔️Instant Confirmation ✔️On-site payment ✔️Free cancellation
About the winery
Only 30 minutes far from Bordeaux, Château Siran is the oldest homestead in the Margaux appellation held by the same family for over 150 years. In the XIXth century Château Siran became property of the family Miailhe, when the estate was bought to Count and Countess de Toulouse-Lautrec, the grandparents of the famous painter!
We welcome you
...
see more
Winery prices
Activities prices :

0

€ to

30

€
Wine prices :

10€ to 115€
Useful information
Languages spoken : English, Spanish, French
Payment methods :

Credit card, Bank check, Cash, American Express

Kids area
Motorhome parking
Disabled facilities

Dogs allowed

Picnic area
Tour and tasting
Medoc Open Days at Château Siran
Free visits and tastings at Château Siran, lunch in the courtyard of the Château with 3 food trucks, visit of the cellars, commented tasting of 3 wines
...
More
Tour and tasting
The Siran tour
A visit that will introduce you to the history of the oldest family driven wine estate of Margaux. The visit is followed by a tasting of 3 of our wines
...
More
Tour and tasting
Bacchus tour
Visit of our wine storehouses, our exhibition of artistic labels and our real antiatomic bunker. Finally, a tasting of 3 wines from our 3 appellations.
...
More
Tour and tasting
The gourmet tour
Immerse yourself in the gourmet universe of the wines of the Margaux appellation thanks to a complete visit of the estate and a tasting of our slate of cheeses and delicatessen products
...
More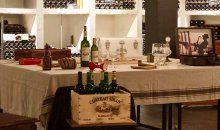 Tour and tasting
Escape Game of the Anti-Atomic Bunker
In our antiatomic bunker, our oldest bottle from 1858 is still missing among the 20,000 present. We need it within the hour! Help us!
...
More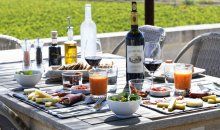 Meal
Lunch Tray
Enjoy our gourmet tray on our terrace with a 360° view of the roof of Château Siran
...
More
Saint Jacques de Siran

2016 - Red wine

10€

More infos

Appellation : Bordeaux Superieur

Grape varieties : Cabernet franc, Cabernet Sauvignon, Merlot noir

Style : Full-bodied red

Appellation : Bordeaux Superieur

Grape varieties : Cabernet franc, Cabernet Sauvignon, Merlot noir

Style : Full-bodied red

ok

Saint Jacques de Siran

2017 - Red wine

10€

More infos

Appellation : Bordeaux Superieur

Grape varieties : Cabernet franc, Cabernet Sauvignon, Merlot noir

Style : Full-bodied red

Appellation : Bordeaux Superieur

Grape varieties : Cabernet franc, Cabernet Sauvignon, Merlot noir

Style : Full-bodied red

ok

Bel Air de Siran

2015 - Red wine

16€

More infos

Appellation : Haut Médoc

Grape varieties : Cabernet Sauvignon, Merlot noir

Style : Full-bodied red

Appellation : Haut Médoc

Grape varieties : Cabernet Sauvignon, Merlot noir

Style : Full-bodied red

ok

Bel Air de Siran

2016 - Red wine

16€

More infos

Appellation : Haut Médoc

Grape varieties : Cabernet Sauvignon, Merlot noir

Style : Full-bodied red

Appellation : Haut Médoc

Grape varieties : Cabernet Sauvignon, Merlot noir

Style : Full-bodied red

ok
See more wines
S de Siran

2016 - Red wine

23€

More infos

Appellation : Margaux

Grape varieties : Cabernet Sauvignon, Merlot noir

Style : Fruity red, Full-bodied red

Appellation : Margaux

Grape varieties : Cabernet Sauvignon, Merlot noir

Style : Fruity red, Full-bodied red

ok

Château Siran

2013 - Red wine

25€

More infos

Appellation : Margaux

Grape varieties : Cabernet Sauvignon, Merlot noir, Petit Verdot

Style : Fruity red, Full-bodied red

Appellation : Margaux

Grape varieties : Cabernet Sauvignon, Merlot noir, Petit Verdot

Style : Fruity red, Full-bodied red

ok

Chateau Siran

2017 - Red wine

30€

More infos

Appellation : Margaux

Grape varieties : Cabernet Sauvignon, Merlot noir, Petit Verdot

Style : Full-bodied red

Appellation : Margaux

Grape varieties : Cabernet Sauvignon, Merlot noir, Petit Verdot

Style : Full-bodied red

ok

Château Siran

2014 - Red wine

35€

More infos

Appellation : Margaux

Grape varieties : Cabernet Sauvignon, Merlot noir, Petit Verdot

Style : Full-bodied red

Appellation : Margaux

Grape varieties : Cabernet Sauvignon, Merlot noir, Petit Verdot

Style : Full-bodied red

ok

Château Siran

2015 - Red wine

45€

More infos

Appellation : Margaux

Grape varieties : Cabernet Sauvignon, Merlot noir, Petit Verdot

Style : Fruity red, Full-bodied red

Appellation : Margaux

Grape varieties : Cabernet Sauvignon, Merlot noir, Petit Verdot

Style : Fruity red, Full-bodied red

ok

1.5L

Chateau Siran

2002 - Red wine

80€

More infos

Appellation : Margaux

Grape varieties : Cabernet Sauvignon, Merlot noir, Petit Verdot

Style : Full-bodied red

Appellation : Margaux

Grape varieties : Cabernet Sauvignon, Merlot noir, Petit Verdot

Style : Full-bodied red

ok

1.5L

Chateau Siran

2008 - Red wine

90€

More infos

Appellation : Margaux

Grape varieties : Cabernet Sauvignon, Merlot noir, Petit Verdot

Style : Full-bodied red

Appellation : Margaux

Grape varieties : Cabernet Sauvignon, Merlot noir, Petit Verdot

Style : Full-bodied red

ok

1.5L

Chateau Siran

1999 - Red wine

105€

More infos

Appellation : Margaux

Grape varieties : Cabernet franc, Cabernet Sauvignon, Merlot noir, Petit Verdot

Style : Full-bodied red

Appellation : Margaux

Grape varieties : Cabernet franc, Cabernet Sauvignon, Merlot noir, Petit Verdot

Style : Full-bodied red

ok

1.5L

Chateau Siran

1996 - Red wine

115€

More infos

Appellation : Margaux

Grape varieties : Cabernet Sauvignon, Merlot noir, Petit Verdot

Style : Full-bodied red

Appellation : Margaux

Grape varieties : Cabernet Sauvignon, Merlot noir, Petit Verdot

Style : Full-bodied red

ok

1.5L

Chateau Siran

2003 - Red wine

120€

More infos

Appellation : Margaux

Grape varieties : Cabernet Sauvignon, Merlot noir, Petit Verdot

Style : Full-bodied red

Appellation : Margaux

Grape varieties : Cabernet Sauvignon, Merlot noir, Petit Verdot

Style : Full-bodied red

ok

1.5L

Chateau Siran

1988 - Red wine

140€

More infos

Appellation : Margaux

Grape varieties : Cabernet franc, Cabernet Sauvignon, Merlot noir, Petit Verdot

Style : Full-bodied red

Appellation : Margaux

Grape varieties : Cabernet franc, Cabernet Sauvignon, Merlot noir, Petit Verdot

Style : Full-bodied red

ok

1.5L

Chateau Siran

1989 - Red wine

180€

More infos

Appellation : Margaux

Grape varieties : Cabernet Sauvignon, Merlot noir, Petit Verdot

Style : Full-bodied red

Appellation : Margaux

Grape varieties : Cabernet Sauvignon, Merlot noir, Petit Verdot

Style : Full-bodied red

ok
Localisation
Château Siran, 13, avenue du Comte JB de Lynch, 33460 Labarde
Get my itinerary