Rue des vignerons
Book a visit & tasting at Château Marquis de Terme in Bordeaux wine region, France. ✔️Instant Confirmation ✔️On-site payment ✔️Free cancellation
About the winery
Family property since 1935, this Grand Cru from Margaux combines tradition and modernity. With 40 hectares of Cabernet Sauvignon, Merlot and Petit Verdot, Château Marquis de Terme produces mesmerizing wines, medium to full bodied wines, with supple tannins, lots of depth and amazing aromas.
Discover the history and craftsmanship at the winery
...
see more
Winery prices
Activities prices :

10

€ to

120

€
Wine prices :

11€ to 200€
Useful information
Languages spoken : English, Spanish, French, Italian
Payment methods :

Credit card, Cash, American Express

Kids area
Motorhome parking
Disabled facilities
Dogs allowed
Picnic area
Tasting
Tasting of the Chateau's wines
Wine tasting at Château Marquis de Terme
...
More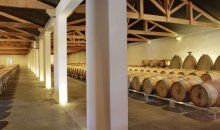 Tour and tasting
Visit and tasting
Visit of the property and tasting of two wines
...
More
Tour and tasting
Workshop "Grands Crus" Wines & Chocolates
A tour of the winery and a workshop to know how to pair wine with chocolate
...
More
Tour and tasting
Cycling trip to Margaux
Guided bike ride through the Margaux vineyards, followed by a visit of the château (vat room, cellars), and a tasting of our wines.
...
More
Tour and tasting
Grands Crus Classés workshop 1855
During a guided tour of the château, you will have the privilege to taste the full range of Grands Crus Classés from Médoc and Sauternes appellations
...
More
La Couronne de Marquis de Terme

2011 - Red wine

24€

More infos

Appellation : Margaux

Grape varieties : Cabernet Sauvignon, Merlot noir, Petit Verdot

Style : Fruity red

Appellation : Margaux

Grape varieties : Cabernet Sauvignon, Merlot noir, Petit Verdot

Style : Fruity red

ok

Château Marquis de Terme

2014 - Red wine

41€

More infos

Appellation : Margaux

Grape varieties : Cabernet Sauvignon, Merlot noir, Petit Verdot

Style : Full-bodied red

Appellation : Margaux

Grape varieties : Cabernet Sauvignon, Merlot noir, Petit Verdot

Style : Full-bodied red

ok

Château Marquis de Terme

2012 - Red wine

42€

More infos

Appellation : Margaux

Grape varieties : Cabernet Sauvignon, Merlot noir, Petit Verdot

Style : Full-bodied red

Appellation : Margaux

Grape varieties : Cabernet Sauvignon, Merlot noir, Petit Verdot

Style : Full-bodied red

ok

Château Marquis de Terme

2015 - Red wine

49€

More infos

Appellation : Margaux

Grape varieties : Cabernet Sauvignon, Merlot noir, Petit Verdot

Style : Full-bodied red

Appellation : Margaux

Grape varieties : Cabernet Sauvignon, Merlot noir, Petit Verdot

Style : Full-bodied red

ok
See all
Le 9 de Marquis de Terme

Red wine

69€

More infos

Appellation : Margaux

Grape varieties : Cabernet Sauvignon, Merlot noir

Style : Full-bodied red

Appellation : Margaux

Grape varieties : Cabernet Sauvignon, Merlot noir

Style : Full-bodied red

ok
Localisation
Château Marquis de Terme, Grand Cru Classé, 3, route de Rauzan, 33460 Margaux
Get my itinerary