Rue des vignerons
Book a visit & tasting at Château de Portets in the Bordeaux wine region, France. ✔️Instant Confirmation ✔️On-site payment ✔️Free cancellation
About the winery
The Château de Portets has an outstanding Renaissance architecture, with its terrace standing over the vineyard. Famous for its architecture (classified Historical Monument), and for the quality of its welcome (labelled "Vignobles et Chais en Bordelais", "Vignobles et Découvertes", and "Best of Wine Tourism 2017"),
...
see more
Winery prices
Activities prices :

15€

Wine prices :

7€ to 15€
Useful information
Languages spoken : English, French
Payment methods :

Credit card, Bank check, Cash

Kids area

Motorhome parking
Disabled facilities

Dogs allowed
Picnic area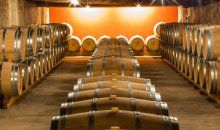 Tour and tasting
« La Petite Graves »
This tour will make you discover the rich history of Château de Portets, the secrets of the winemaking process for both white and red Graves wines, and their caracteristics, in a pleasant and entertaining environment.
...
More
Winery wines
Château de Portets

2021 - White wine

11€

More infos

Appellation : Graves

Grape varieties : Sauvignon blanc, Muscadelle, Sémillon

Style : Dry white

Appellation : Graves

Grape varieties : Sauvignon blanc, Muscadelle, Sémillon

Style : Dry white

ok

Château Port du Roy

2019 - Red wine

7€

More infos

Appellation : Bordeaux Superieur

Grape varieties : Cabernet Sauvignon, Merlot noir

Style : Fruity red

Appellation : Bordeaux Superieur

Grape varieties : Cabernet Sauvignon, Merlot noir

Style : Fruity red

ok

Sens de Portets Sans Sulfites Ajoutés

2020 - Red wine

9.50€

More infos

Appellation : Graves

Grape variety : Merlot noir

Style : Light-bodied red, Fruity red

Appellation : Graves

Grape variety : Merlot noir

Style : Light-bodied red, Fruity red

ok

Château de Portets Ambassadeur de Graves

2019 - Red wine

12€

More infos

Appellation : Graves

Grape varieties : Cabernet Sauvignon, Merlot noir

Style : Full-bodied red

Appellation : Graves

Grape varieties : Cabernet Sauvignon, Merlot noir

Style : Full-bodied red

ok
See more wines
Château de Portets Grand Vin

2018 - Red wine

15€

More infos

Appellation : Graves

Grape varieties : Cabernet Sauvignon, Merlot noir

Style : Full-bodied red

Appellation : Graves

Grape varieties : Cabernet Sauvignon, Merlot noir

Style : Full-bodied red

ok
Localisation
Château de Portets, Château de Portets, Rue de Mongenan, 33640 Portets
Get my itinerary