Rue des vignerons
Book a visit & tasting at Domaine Bersan, Saint-Bris-le-Vineux in the Burgundy wine region, France. ✔️Instant Confirmation ✔️On-site payment ✔️Free cancellation
About the winery
A visit is necessary! Unique cellars in the Yonne!
Coming from a family of winemakers since the 15th century (1453), Jean-François and Pierre-Louis perpetuate this tradition of respect for the product through the respect of their terroirs. All the Burgundian grape varieties are present in Saint-Bris. Jean-François and Pierre-Louis cultivate
...
see more
Winery prices
Activities prices :

Free

0

Wine prices :

9€ to 18€
Useful information
Languages spoken : French
Payment methods :

Credit card, Bank check, Cash

Kids area
Motorhome parking
Disabled facilities

Dogs allowed

Picnic area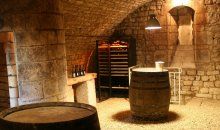 Tour and tasting
Instant pleasure
Pleasure of the eyes with the story... Pleasure of the nose and mouth with the tasting... Pleasure of sharing with the winemakers
...
More
Winery wines
Bourgogne Aligoté

2020 - White wine

10€

More infos

Appellation : Bourgogne Aligoté

Grape variety : Aligoté

Style : Dry white, Fruity white

Appellation : Bourgogne Aligoté

Grape variety : Aligoté

Style : Dry white, Fruity white

ok

Bourgogne Côtes d'Auxerre Blanc

2020 - White wine

13€

More infos

Appellation : Bourgogne Côtes d'Auxerre

Grape variety : Chardonnay

Style : Dry white

Appellation : Bourgogne Côtes d'Auxerre

Grape variety : Chardonnay

Style : Dry white

ok

Saint-Bris

2018 - White wine

13€

More infos

Appellation : Saint Bris

Grape variety : Sauvignon blanc

Style : Dry white, Fruity white

Appellation : Saint Bris

Grape variety : Sauvignon blanc

Style : Dry white, Fruity white

ok

Crémant de Bourgogne

White wine

13€

More infos

Appellation : Crémant de Bourgogne

Grape variety : Pinot noir

Style : White sparkling wine

Appellation : Crémant de Bourgogne

Grape variety : Pinot noir

Style : White sparkling wine

ok
See more wines
Saint-Bris Cuvée Marianne

2018 - White wine

15.50€

More infos

Appellation : Saint Bris

Grape variety : Sauvignon blanc

Style : Dry white, Fruity white

Appellation : Saint Bris

Grape variety : Sauvignon blanc

Style : Dry white, Fruity white

ok

Bourgogne Côtes d'Auxerre Blanc Cuvée Marianne

2019 - White wine

15.50€

More infos

Appellation : Bourgogne Côtes d'Auxerre

Grape variety : Chardonnay

Style : Dry white

Appellation : Bourgogne Côtes d'Auxerre

Grape variety : Chardonnay

Style : Dry white

ok

Chablis

2021 - White wine

15.50€

More infos

Appellation : Chablis

Grape variety : Chardonnay

Style : Dry white

Appellation : Chablis

Grape variety : Chardonnay

Style : Dry white

ok

Chablis Premier Cru Beauroy

2020 - White wine

23€

More infos

Appellation : Chablis Premier Cru

Grape variety : Chardonnay

Style : Dry white

Appellation : Chablis Premier Cru

Grape variety : Chardonnay

Style : Dry white

ok

Bourgogne Côtes d'Auxerre Rouge

2019 - Red wine

13€

More infos

Appellation : Bourgogne Côtes d'Auxerre

Grape variety : Pinot noir

Style : Light-bodied red, Fruity red

Appellation : Bourgogne Côtes d'Auxerre

Grape variety : Pinot noir

Style : Light-bodied red, Fruity red

ok

Bourgogne Côtes d'Auxerre Rouge Cuvée Marianne

2019 - Red wine

16.50€

More infos

Appellation : Bourgogne Côtes d'Auxerre

Grape variety : Pinot noir

Style : Full-bodied red

Appellation : Bourgogne Côtes d'Auxerre

Grape variety : Pinot noir

Style : Full-bodied red

ok

Irancy

2018 - Red wine

15.50€

More infos

Appellation : Irancy

Grape varieties : Pinot noir, César

Style : Full-bodied red

Appellation : Irancy

Grape varieties : Pinot noir, César

Style : Full-bodied red

ok

Irancy Cuvée Marianne

2018 - Red wine

18.50€

More infos

Appellation : Irancy

Grape variety : Pinot noir

Style : Full-bodied red

Appellation : Irancy

Grape variety : Pinot noir

Style : Full-bodied red

ok

Bourgogne Côtes d'Auxerre Rosé

2022 - Rosé wine

10€

More infos

Appellation : Bourgogne Côtes d'Auxerre Rosé

Grape variety : Pinot noir

Style : Full-bodied rosé

Appellation : Bourgogne Côtes d'Auxerre Rosé

Grape variety : Pinot noir

Style : Full-bodied rosé

ok
Localisation
Domaine Pierre-Louis & Jean-François Bersan, 5 rue du Docteur Tardieux, 89530 Saint-Bris-le-Vineux
Get my itinerary