Rue des vignerons
Book a visit & tasting at Domaine Chanzy in Bouzeron, in the Burgundy wine region, France. ✔️Instant Confirmation ✔️On-site payment ✔️Free cancellation
About the winery
The estate Chanzy is a winery located in Bouzeron, in the heart of the Côte Chalonnaise. It has 80 hectares of vineyards spread over the 3 different coasts of Burgundy.
The objective of this meeting is to make you discover our history and the passion of the winemaker's profession which carries us every day.
"Respecting the
...
see more
Winery prices
Activities prices :

10

€ to

55

€
Wine prices :

12€ to 200€
Useful information
Languages spoken : English, French
Payment methods :

Credit card, Bank check, Cash

Kids area

Motorhome parking
Disabled facilities

Dogs allowed

Picnic area
Tasting
Tasting of 3 grape varieties
Come and discover the subtle nuances and richness of our three grape varieties
...
More
Tour and tasting
At the heart of our cellars
Join us for a trip through our winery and our beautiful terroirs of Côte Chalonnaise.
...
More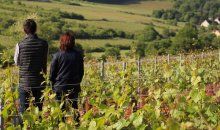 Tour and tasting
Wine Escapade
Would you like a gourmet break among the vines? In the heart of Bouzeron, discover the charm and the exceptional location of the Clos de la Fortune Monopole.
...
More
Winery wines
Bourgogne Aligoté Les Fortunés

2021 - White wine

More infos

Appellation : Bourgogne

Grape variety : Aligoté

Style : Dry white

Appellation : Bourgogne

Grape variety : Aligoté

Style : Dry white

ok

Crémant de Bourgogne Blanc de Blancs

White wine

More infos

Appellation : Crémant de Bourgogne

Grape varieties : Chardonnay, Aligoté

Style : White sparkling wine

Appellation : Crémant de Bourgogne

Grape varieties : Chardonnay, Aligoté

Style : White sparkling wine

ok

Bouzeron Les Trois

2020 - White wine

More infos

Appellation : Bouzeron

Grape variety : Aligoté

Style : Dry white

Appellation : Bouzeron

Grape variety : Aligoté

Style : Dry white

ok

Bouzeron "Clos de la Fortune" Monopole

2019 - White wine

More infos

Appellation : Bouzeron

Grape variety : Aligoté

Style : Dry white

Appellation : Bouzeron

Grape variety : Aligoté

Style : Dry white

ok
See more wines
Mercurey "Le Bois Cassien" Monopole

2019 - White wine

More infos

Appellation : Mercurey

Grape variety : Chardonnay

Style : Dry white

Appellation : Mercurey

Grape variety : Chardonnay

Style : Dry white

ok

Rully "Les Cailloux"

2018 - White wine

More infos

Appellation : Rully

Grape variety : Chardonnay

Style : Dry white

Appellation : Rully

Grape variety : Chardonnay

Style : Dry white

ok

Mercurey "Clos les Bussières" Monopole

2020 - White wine

More infos

Appellation : Mercurey

Grape variety : Chardonnay

Style : Dry white

Appellation : Mercurey

Grape variety : Chardonnay

Style : Dry white

ok

Rully "En Rosey"

2020 - White wine

More infos

Appellation : Rully

Grape variety : Chardonnay

Style : Dry white

Appellation : Rully

Grape variety : Chardonnay

Style : Dry white

ok

Mercurey Les Caraby

2019 - White wine

22.20€

More infos

Appellation : Mercurey

Grape variety : Chardonnay

Style : Dry white

Appellation : Mercurey

Grape variety : Chardonnay

Style : Dry white

ok

Mercurey "Le Bois Cassien" Monopole

2020 - Red wine

More infos

Appellation : Mercurey

Grape variety : Pinot noir

Style : Fruity red

Appellation : Mercurey

Grape variety : Pinot noir

Style : Fruity red

ok

Mercurey "Les Bussières"

2020 - Red wine

More infos

Appellation : Mercurey

Grape variety : Pinot noir

Style : Fruity red, Full-bodied red

Appellation : Mercurey

Grape variety : Pinot noir

Style : Fruity red, Full-bodied red

ok

Rully "En Rosey"

2020 - Red wine

22€

More infos

Appellation : Rully

Grape variety : Pinot noir

Style : Fruity red

Appellation : Rully

Grape variety : Pinot noir

Style : Fruity red

ok

Mercurey "Les Caraby"

2020 - Red wine

More infos

Appellation : Mercurey

Grape variety : Pinot noir

Style : Fruity red, Full-bodied red

Appellation : Mercurey

Grape variety : Pinot noir

Style : Fruity red, Full-bodied red

ok

Santenay "Les Cornières"

2019 - Red wine

More infos

Appellation : Santenay

Grape variety : Pinot noir

Style : Fruity red, Full-bodied red

Appellation : Santenay

Grape variety : Pinot noir

Style : Fruity red, Full-bodied red

ok

Rully 1er Cru "La Fosse"

2018 - Red wine

More infos

Appellation : Rully

Grape variety : Pinot noir

Style : Fruity red

Appellation : Rully

Grape variety : Pinot noir

Style : Fruity red

ok

Maranges 1er Cru "La Fussière"

2019 - Red wine

More infos

Appellation : Maranges

Grape variety : Pinot noir

Style : Full-bodied red

Appellation : Maranges

Grape variety : Pinot noir

Style : Full-bodied red

ok

Mercurey 1er cru "Clos du Roy"

2019 - Red wine

More infos

Appellation : Mercurey

Grape variety : Pinot noir

Style : Fruity red

Appellation : Mercurey

Grape variety : Pinot noir

Style : Fruity red

ok

Mercurey 1er Cru "Clos Voyens"

2019 - Red wine

More infos

Appellation : Mercurey

Grape variety : Pinot noir

Style : Fruity red

Appellation : Mercurey

Grape variety : Pinot noir

Style : Fruity red

ok
Localisation
Domaine Chanzy, Domaine Chanzy - 6, rue de la Fontaine, 71150 Bouzeron
Get my itinerary