Rue des vignerons
Book a visit & tasting at Château Phélan Ségur in the Bordeaux wine region, France. ✔️Instant Confirmation ✔️On-site payment ✔️Free cancellation
About the winery
Founded by Bernard Phélan and developped by his son Frank, the Château Phélan Ségur is, from the beginning of the 20th century, a reference in the Saint Estèphe appellation. You will be enchanted by its incredible architecture and its fabulous view on the Gironde.
With its 70 hectares, the château takes advantage of the diversity of the
...
see more
Winery prices
Activities prices :

35€

Wine prices :

38€ to 60€
Useful information
Languages spoken : English, French
Payment methods :

Credit card

Kids area

Motorhome parking
Disabled facilities
Dogs allowed
Picnic area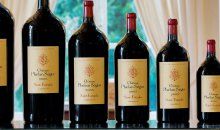 Tour and tasting
Visit of the winery and tasting
Discover the secrets of our vintages through a guided tour of the property followed by a vertical tasting
...
More
Château Phélan Ségur

2011 - Red wine

More infos

Appellation : Saint Estephe

Grape varieties : Cabernet Sauvignon, Merlot noir

Style : Full-bodied red

Appellation : Saint Estephe

Grape varieties : Cabernet Sauvignon, Merlot noir

Style : Full-bodied red

ok

Château Phélan Ségur

2012 - Red wine

More infos

Appellation : Saint Estephe

Grape varieties : Cabernet Sauvignon, Merlot noir

Style : Full-bodied red

Appellation : Saint Estephe

Grape varieties : Cabernet Sauvignon, Merlot noir

Style : Full-bodied red

ok

Château Phélan Ségur

2014 - Red wine

More infos

Appellation : Saint Estephe

Grape varieties : Cabernet Sauvignon, Merlot noir

Style : Full-bodied red

Appellation : Saint Estephe

Grape varieties : Cabernet Sauvignon, Merlot noir

Style : Full-bodied red

ok
Localisation
Château Phélan Ségur, Rue des écoles, 33180 Saint-Estèphe
Get my itinerary