Rue des vignerons
Book a visit & tasting at Bouchard-Aîné & Fils in the Burgundy wine region, France. ✔️Instant Confirmation ✔️On-site payment ✔️Free cancellation
About the winery
Established in Burgundy since the 18th century and more particularly in the city of Beaune, the Bouchard Ainé & Fils history is a testimony of a family rooted in the trade and sale of wine.
The Hôtel du Conseiller du Roy, in Beaune, has housed the cellars of this great House since its official foundation in 1750. An idea of prestige and
...
see more
Winery prices
Activities prices :

20€

Wine prices :

7€ to 145€
Useful information
Languages spoken : English, French, Portuguese
Payment methods :

Credit card, Bank check, Cash, American Express

Kids area
Motorhome parking
Disabled facilities
Dogs allowed
Picnic area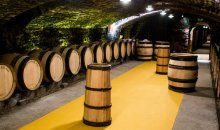 Tour and tasting
The 5 senses Tour
Sensory, fun and interactive tour and tasting to understand the role of each of your senses during wine discovery
...
More
Winery wines
Beaune 1er Cru "Les Marconnets"

2017 - White wine

More infos

Appellation : Beaune

Grape variety : Chardonnay

Style : Dry white

Appellation : Beaune

Grape variety : Chardonnay

Style : Dry white

ok

Meursault

2015 - White wine

More infos

Appellation : Meursault

Grape variety : Chardonnay

Style : Dry white

Appellation : Meursault

Grape variety : Chardonnay

Style : Dry white

ok

Savigny-lès-Beaune

2017 - White wine

More infos

Appellation : Savigny lès Beaune

Grape variety : Chardonnay

Style : Dry white

Appellation : Savigny lès Beaune

Grape variety : Chardonnay

Style : Dry white

ok

Beaune 1er Cru "Clos du Roi"

2017 - Red wine

More infos

Appellation : Beaune

Grape variety : Pinot noir

Style : Full-bodied red

Appellation : Beaune

Grape variety : Pinot noir

Style : Full-bodied red

ok
See more wines
Beaune 1er Cru "Les Marconnets"

2015 - Red wine

More infos

Appellation : Beaune

Grape variety : Pinot noir

Style : Full-bodied red

Appellation : Beaune

Grape variety : Pinot noir

Style : Full-bodied red

ok

Fixin "La Mazière"

2017 - Red wine

More infos

Appellation : Fixin

Grape variety : Pinot noir

Style : Fruity red

Appellation : Fixin

Grape variety : Pinot noir

Style : Fruity red

ok

Nuits-Saint-Georges 1er Cru "Les Chaboeufs"

2015 - Red wine

More infos

Appellation : Nuits Saint Georges

Grape variety : Pinot noir

Style : Full-bodied red

Appellation : Nuits Saint Georges

Grape variety : Pinot noir

Style : Full-bodied red

ok

Pommard 1er Cru "Les Charmots"

2015 - Red wine

More infos

Appellation : Pommard

Grape variety : Pinot noir

Style : Full-bodied red

Appellation : Pommard

Grape variety : Pinot noir

Style : Full-bodied red

ok
Localisation
Bouchard-Aîné & Fils, 4, boulevard du Maréchal Foch, 21200 Beaune
Get my itinerary