Rue des vignerons
Book a visit & tasting at Domaine Guillaume Baduel, in the Burgundy wine region, France. ✔️Instant Confirmation ✔️On-site payment ✔️Free cancellation
About the winery
Domaine Guillaume Baduel is a family-run winery located in the heart of Burgundy in the prestigious village of Pommard, Côte de Beaune.
Created in 2012, the domain is taken over by Guillaume, representative of the 6th generation of winemakers in the family.
The philosophy of the domain in its cultivation methods as well as in the vinification,
...
see more
Winery prices
Activities prices :

15€

Wine prices :

13€ to 45€
Useful information
Languages spoken : English, French
Payment methods :

Credit card, Cash

Kids area

Motorhome parking
Disabled facilities
Dogs allowed
Picnic area
Tasting
Emblematic vintages
Push the doors of the domain and enjoy the comfort of our cellar to discover 6 wines of the domain.
...
More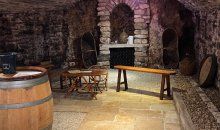 Tour and tasting
Discovery of the estate
Visit of the estate, the region, its appellations, the winemaking process, and discovery of our range.
...
More
Winery wines
Bourgogne Aligoté

2018 - White wine

More infos

Appellation : Bourgogne Aligoté

Grape variety : Aligoté

Style : Fruity white

Appellation : Bourgogne Aligoté

Grape variety : Aligoté

Style : Fruity white

ok

Bourgogne Chardonnay

2018 - White wine

More infos

Appellation : Bourgogne Côte d'Or

Grape variety : Chardonnay

Style : Fruity white

Appellation : Bourgogne Côte d'Or

Grape variety : Chardonnay

Style : Fruity white

ok

Beaune 1er Cru "Les Montrevenots"

2019 - White wine

More infos

Appellation : Bourgogne Côte d'Or

Grape variety : Chardonnay

Style : Fruity white

Appellation : Bourgogne Côte d'Or

Grape variety : Chardonnay

Style : Fruity white

ok

Monthélie "Les Sous Roches"

2018 - Red wine

More infos

Appellation : Monthélie

Grape variety : Pinot noir

Style : Fruity red

Appellation : Monthélie

Grape variety : Pinot noir

Style : Fruity red

ok
See more wines
Bourgogne Pinot Noir

2018 - Red wine

More infos

Appellation : Bourgogne

Grape variety : Pinot noir

Style : Fruity red

Appellation : Bourgogne

Grape variety : Pinot noir

Style : Fruity red

ok

Pommard 1er Cru "Les Sausilles"

2017 - Red wine

More infos

Appellation : Pommard

Grape variety : Pinot noir

Style : Full-bodied red

Appellation : Pommard

Grape variety : Pinot noir

Style : Full-bodied red

ok

Pommard

2019 - Red wine

More infos

Appellation : Pommard

Grape variety : Pinot noir

Style : Full-bodied red

Appellation : Pommard

Grape variety : Pinot noir

Style : Full-bodied red

ok

Pommard "La Levrière"

2019 - Red wine

More infos

Appellation : Pommard

Grape variety : Pinot noir

Style : Full-bodied red

Appellation : Pommard

Grape variety : Pinot noir

Style : Full-bodied red

ok
Localisation
Domaine Guillaume Baduel, 12 Rue de Largilliere, 21630 Pommard
Get my itinerary