Rue des vignerons
Book a visit & tasting at Le Caveau à AUxey in Burgundy wine region, France. ✔️Instant Confirmation ✔️On-site payment ✔️Free cancellation
About the winery
A few minutes from Beaune, in the heart of a preserved wine village, discover the vineyard with your family! In a family and friendly atmosphere, taste the Burgundian welcome, its flavors, its landscapes, its culture, its History...
Attached to the village of Auxey, in the house where my grandparents produced their wines, I welcome you with my
...
see more
Winery prices
Activities prices :

12

€ to

60

€
Wine prices :

8€ to 225€
Useful information
Languages spoken : English, French
Payment methods :

Credit card, Cash, American Express

Kids area

Motorhome parking
Disabled facilities
Dogs allowed
Picnic area
Tasting
The tastings' in Auxey
Take part in a wine tasting at the cellar with the help of 3 commented tasting formulas.
...
More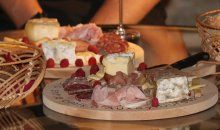 Tasting
Gourmet Break
Tasting of 5 Burgundy wines accompanied by a platter of cold cuts and cheeses + a pastry: wouldn't that be gourmet food served on a tray?
...
More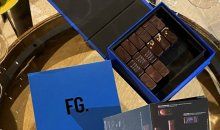 Tasting
Wine & Chocolate Tasting
Wine & chocolate tasting Le Caveau is associated with the chocolate maker Fabrice Gillotte ! Surprise your senses!
...
More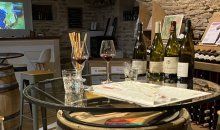 Tasting
The workshops in Auxey
Video workshop with commentary on several themes, to learn more about Burgundy!
...
More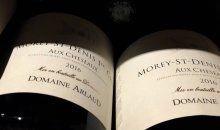 Tasting
Prestige Tasting
Take the time to discover the prestigious appellation of Burgundy with 4 Premiers Crus de Côte d'Or and 2 Grands Crus.
...
More
Winery wines
Auxey-Duresses Domaine de La Roche Aigue

2021 - White wine

22€

More infos

Appellation : Auxey Duresses

Grape variety : Chardonnay

Style : Dry white

Appellation : Auxey Duresses

Grape variety : Chardonnay

Style : Dry white

ok

Auxey Duresses "Clos du Moulin aux Moines" Bio

2019 - White wine

More infos

Appellation : Auxey Duresses

Grape variety : Chardonnay

Style : Dry white

Appellation : Auxey Duresses

Grape variety : Chardonnay

Style : Dry white

ok

Ladoix "Champ Pussuet" Auguste & Maurice

2021 - Red wine

More infos

Appellation : Ladoix

Grape variety : Pinot noir

Style : Fruity red

Appellation : Ladoix

Grape variety : Pinot noir

Style : Fruity red

ok

Mercurey 1er Cru "En Sazenay" Domaine Pillot

2020 - Red wine

More infos

Appellation : Mercurey

Grape variety : Pinot noir

Style : Fruity red

Appellation : Mercurey

Grape variety : Pinot noir

Style : Fruity red

ok
See all
Pommard Domaine Prunier Damy

2019 - Red wine

43€

More infos

Appellation : Pommard

Grape variety : Pinot noir

Style : Full-bodied red

Appellation : Pommard

Grape variety : Pinot noir

Style : Full-bodied red

ok

Chambolle Musigny

2018 - Red wine

More infos

Appellation : Chambolle Musigny

Grape variety : Pinot noir

Style : Full-bodied red

Appellation : Chambolle Musigny

Grape variety : Pinot noir

Style : Full-bodied red

ok
Localisation
Le Caveau à Auxey, 1 rue du dessous, 21190 Auxey Duresses
Get my itinerary