Rue des vignerons
Book a visit & tasting at Villa Baulieu vignoble in Rognes, in the Provence wine region, France. ✔️Instant Confirmation ✔️On-site payment ✔️Free cancellation
About the winery
Villa Baulieu is a 160 hectares farm and winery located in the heart of the unique volcanic crater of Provence. There are almond trees, truffles, forestry, and of course vines.
The wine production of the Coteaux d'Aix en Provence appellation is divided between the range Château Baulieu, which is mainly composed of rosé wines for several
...
see more
Winery prices
Activities prices :

15€

Wine prices :

12€ to 40€
Useful information
Languages spoken : English, French
Payment methods :

Credit card, Cash

Kids area
Motorhome parking
Disabled facilities

Dogs allowed

Picnic area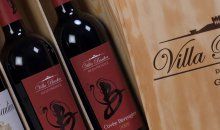 Tasting
Discovery of the wines of Baulieu
Tasting of the 10 wines of the estate: Château Beaulieu in the 3 colours, and Bérengère and Villa Baulieu in red and white
...
More
Winery wines
Villa Baulieu Cuvée Bérengère Blanc

2015 - White wine

20€

More infos

Appellation : Coteaux d'Aix en Provence

Grape varieties : Sémillon, Rolle

Style : Fruity white

Appellation : Coteaux d'Aix en Provence

Grape varieties : Sémillon, Rolle

Style : Fruity white

ok

Villa Baulieu Blanc

2015 - White wine

44€

More infos

Appellation : Coteaux d'Aix en Provence

Grape varieties : Sauvignon blanc, Rolle

Style : Dry white

Appellation : Coteaux d'Aix en Provence

Grape varieties : Sauvignon blanc, Rolle

Style : Dry white

ok

Château Beaulieu Cuvée Alexandre Rouge

2018 - Red wine

12.90€

More infos

Appellation : Coteaux d'Aix en Provence

Grape varieties : Grenache noir, Syrah

Style : Fruity red

Appellation : Coteaux d'Aix en Provence

Grape varieties : Grenache noir, Syrah

Style : Fruity red

ok

Villa Baulieu Cuvée Bérengère Rouge

2016 - Red wine

20€

More infos

Appellation : Coteaux d'Aix en Provence

Grape varieties : Cabernet Sauvignon, Syrah

Style : Full-bodied red

Appellation : Coteaux d'Aix en Provence

Grape varieties : Cabernet Sauvignon, Syrah

Style : Full-bodied red

ok
See more wines
Villa Baulieu Rouge

2016 - Red wine

44€

More infos

Appellation : Coteaux d'Aix en Provence

Grape varieties : Cabernet Sauvignon, Grenache noir, Syrah

Style : Full-bodied red

Appellation : Coteaux d'Aix en Provence

Grape varieties : Cabernet Sauvignon, Grenache noir, Syrah

Style : Full-bodied red

ok

Château Beaulieu Cuvée Alexandre Rosé

2022 - Rosé wine

12.90€

More infos

Appellation : Coteaux d'Aix en Provence

Grape varieties : Cabernet Sauvignon, Cinsaut, Grenache noir, Syrah

Style : Fruity rosé

Appellation : Coteaux d'Aix en Provence

Grape varieties : Cabernet Sauvignon, Cinsaut, Grenache noir, Syrah

Style : Fruity rosé

ok
Localisation
Château Beaulieu - Villa Baulieu vignoble, Chateau Beaulieu - Route de Beaulieu - D14C, 13840 Rognes
Get my itinerary