Rue des vignerons
Book a cellar visit with a little train at Mercier Champagne house in Epernay, France. ✔️Instant Confirmation ✔️On-site payment ✔️Free cancellation
About the winery
In 1871, Eugène Mercier started an innovative project: "Count by kilometers and not by meters," he told the architects.
A few years later, no less than 18 kilometers of cellars were open to the visitors in search of discovery!
Come and discover the Maison Mercier and some of our cellars on the train.
Winery prices
Activities prices :

26

€ to

30

€
Wine prices :

19€ to 45€
Useful information
Languages spoken : German, English, Spanish, French, Italian, Japanese, Portuguese, Russian, Chinese
Payment methods :

Credit card, Cash, American Express

Kids area
Motorhome parking
Disabled facilities

i

- Vision impairments
- Physical impairments


- Vision impairments
- Physical impairments


ok

Dogs allowed
Picnic area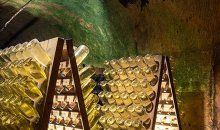 Tour and tasting
Mercier Duo
The Mercier Duo visit: a non-conformist experience in honor of Eugène Mercier, with a tasting of the Mercier Brut and a choice between the Mercier Blanc de Noirs and the Mercier Rosé
...
More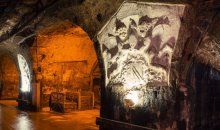 Tour and tasting
The Golden Bubbles Tour
The Golden Bubbles tour: a rich and harmonious experience about the three Mercier Champagnes, followed by the tasting of the Brut Mercier, the Rosé Mercier and the Reserve Mercier.
...
More
Winery wines
Brut Mercier

White wine

21€

More infos

Appellation : Champagne appellation

Grape varieties : Pinot noir, Chardonnay, Pinot Meunier

Style : Champagne

Appellation : Champagne appellation

Grape varieties : Pinot noir, Chardonnay, Pinot Meunier

Style : Champagne

ok

Brut Réserve Mercier

White wine

27€

More infos

Appellation : Champagne appellation

Grape varieties : Pinot noir, Chardonnay, Pinot Meunier

Style : Champagne

Appellation : Champagne appellation

Grape varieties : Pinot noir, Chardonnay, Pinot Meunier

Style : Champagne

ok

Blanc de Noirs Mercier

White wine

28€

More infos

Appellation : Champagne appellation

Grape varieties : Pinot noir, Pinot Meunier

Style : Champagne

Appellation : Champagne appellation

Grape varieties : Pinot noir, Pinot Meunier

Style : Champagne

ok

Brut Rosé Mercier

Rosé wine

24€

More infos

Appellation : Champagne appellation

Grape varieties : Pinot noir, Pinot Meunier

Style : Rose Champagne

Appellation : Champagne appellation

Grape varieties : Pinot noir, Pinot Meunier

Style : Rose Champagne

ok
Localisation
Champagne Mercier, 68-70, avenue de Champagne, 51200 Epernay
Get my itinerary