Rue des vignerons
Book a visit & tasting at Château Talbot, Saint-Julien Beychevelle in the Bordeaux wine region, France. ✔️Instant Confirmation ✔️On-site payment ✔️Free cancellation
About the winery
Formerly belonging to the family of the Marquis d'AUX for two centuries, Talbot has been under the good care of the CORDIER family since 1918.
This fourth Grand Cru Classé of 1855 has a vineyard covering 110 hectares with a large majority of red (105 ha) and a confidential area of white (5 ha). Its wine embodies the ideal of Saint-Julien, with
...
see more
Winery prices
Activities prices :

18

€ to

80

€
Wine prices :

27€ to 87€
Useful information
Languages spoken : English, French
Payment methods :

Credit card, Bank check, Cash

Kids area
Motorhome parking
Disabled facilities
Dogs allowed
Picnic area
Tour and tasting
Classic Tour
Discovery of the winery and tasting of 2 wines
...
More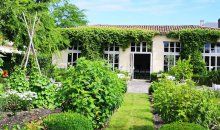 Tour and tasting
Visit "Discovering the gardens"
Discover a traditional Médoc property: its vineyard, its wines and its park!
...
More
Tour and tasting
Prestige Tour
Journey back in time during a visit and a tasting of 3 great vintages and our white wine
...
More
Winery wines
Château Talbot Caillou Blanc

2021 - White wine

More infos

Appellation : Bordeaux

Grape varieties : Sauvignon blanc, Sémillon

Style : Fruity white

Appellation : Bordeaux

Grape varieties : Sauvignon blanc, Sémillon

Style : Fruity white

ok

Connétable Talbot

2010 - Red wine

More infos

Appellation : Saint Julien

Grape varieties : Cabernet Sauvignon, Merlot noir

Style : Fruity red

Appellation : Saint Julien

Grape varieties : Cabernet Sauvignon, Merlot noir

Style : Fruity red

ok

Connétable Talbot

2014 - Red wine

More infos

Appellation : Saint Julien

Grape varieties : Cabernet Sauvignon, Merlot noir, Petit Verdot

Style : Fruity red

Appellation : Saint Julien

Grape varieties : Cabernet Sauvignon, Merlot noir, Petit Verdot

Style : Fruity red

ok

Château Talbot

2006 - Red wine

More infos

Appellation : Saint Julien

Grape varieties : Cabernet Sauvignon, Merlot noir, Petit Verdot

Style : Full-bodied red

Appellation : Saint Julien

Grape varieties : Cabernet Sauvignon, Merlot noir, Petit Verdot

Style : Full-bodied red

ok
See more wines
Château Talbot

2010 - Red wine

More infos

Appellation : Saint Julien

Grape varieties : Cabernet Sauvignon, Merlot noir, Petit Verdot

Style : Full-bodied red

Appellation : Saint Julien

Grape varieties : Cabernet Sauvignon, Merlot noir, Petit Verdot

Style : Full-bodied red

ok

Château Talbot

2014 - Red wine

More infos

Appellation : Saint Julien

Grape varieties : Cabernet Sauvignon, Merlot noir, Petit Verdot

Style : Full-bodied red

Appellation : Saint Julien

Grape varieties : Cabernet Sauvignon, Merlot noir, Petit Verdot

Style : Full-bodied red

ok
Localisation
Château Talbot, Grand Cru Classé, Château Talbot, 33250 Saint-Julien Beychevelle
Get my itinerary