Rue des vignerons
Book a visit & tasting at Champagne Bouquet in the Champagne wine region, France. ✔️Instant Confirmation ✔️On-site payment ✔️Free cancellation
About the winery
The Champagne Bouquet, established in the heart of the Valley of the Marne, is glad to welcome you all along the year to show you all its range of champagnes.
We would be pleased to pass on you our passion as well as our expertise, by offering you the possibility to visit the estate and to taste our champagne in our vault, in our panoramic room
...
see more
Winery prices
Activities prices :

6

€ to

8

€
Wine prices :

16€ to 35€
Useful information
Languages spoken : English, French
Payment methods :

Credit card, Cash

Kids area

Motorhome parking
Disabled facilities

Dogs allowed

Picnic area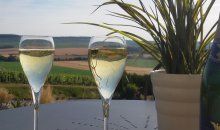 Tasting
Discovering Bouquet Champagne
Tasting of 2 champagnes of our range
...
More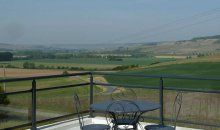 Tour and tasting
Exploration of the winery
Visit of the whole winery followed by a tasting of 2 champagnes of our range.
...
More
Winery wines
Demi-Sec

White wine

15€

More infos

Appellation : Champagne appellation

Grape varieties : Pinot noir, Chardonnay, Meunier

Style : Champagne

Appellation : Champagne appellation

Grape varieties : Pinot noir, Chardonnay, Meunier

Style : Champagne

ok

Brut Réserve

White wine

15€

More infos

Appellation : Champagne appellation

Grape varieties : Pinot noir, Chardonnay, Meunier

Style : Champagne

Appellation : Champagne appellation

Grape varieties : Pinot noir, Chardonnay, Meunier

Style : Champagne

ok

La Belle Notoire

White wine

18€

More infos

Appellation : Champagne appellation

Grape varieties : Pinot noir, Chardonnay, Meunier

Style : Champagne

Appellation : Champagne appellation

Grape varieties : Pinot noir, Chardonnay, Meunier

Style : Champagne

ok

Brut Millésime

2015 - White wine

20€

More infos

Appellation : Champagne appellation

Grape varieties : Pinot noir, Chardonnay, Meunier

Style : Champagne

Appellation : Champagne appellation

Grape varieties : Pinot noir, Chardonnay, Meunier

Style : Champagne

ok
See all
Cuvée Opaline

White wine

23€

More infos

Appellation : Champagne appellation

Grape varieties : Pinot noir, Pinot Meunier

Style : Champagne

Appellation : Champagne appellation

Grape varieties : Pinot noir, Pinot Meunier

Style : Champagne

ok

Brut Rosé

Rosé wine

17€

More infos

Appellation : Champagne appellation

Grape varieties : Pinot noir, Chardonnay, Meunier

Style : Rose Champagne

Appellation : Champagne appellation

Grape varieties : Pinot noir, Chardonnay, Meunier

Style : Rose Champagne

ok
Localisation
Champagne Bouquet, 3, rue du Coteau, 51700 Châtillon-sur-Marne
Get my itinerary