Rue des vignerons
Book a visit & tasting at À la table de Thibaud IV - Champagne Taittinger in Champagne wine region, France. ✔️Instant Confirmation ✔️On-site payment ✔️Free cancellation
About the winery
During the closure of our historic cellars in Saint-Nicaise, the House of Taittinger invites you to come and live a unique and ephemeral experience at the 13th century Demeure des Comtes de Champagne, a place usually closed to the public.
During this audio and tasting experience "At the Table of Thibaud IV", you will be welcomed and
...
see more
Winery prices
Activities prices :

60€

Wine prices :

30€ to 260€
Useful information
Languages spoken : English, French
Payment methods :

Credit card, Cash, American Express

Kids area
Motorhome parking
Disabled facilities
Dogs allowed
Picnic area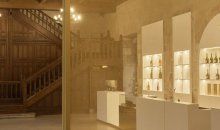 Tasting
À la table de Thibaud IV
Travel through time and discover the history of champagne Taittinger. Come and talk with the emblematic Thibaud the fourth, Count of Champagne and taste the champagnes that he has inspired.
...
More
Winery wines
Brut Réserve

White wine

More infos

Appellation : Ajaccio

Grape varieties : Pinot noir, Chardonnay, Pinot Meunier

Style : Champagne

Appellation : Ajaccio

Grape varieties : Pinot noir, Chardonnay, Pinot Meunier

Style : Champagne

ok

Prélude Grands Crus

White wine

More infos

Appellation : Champagne grand cru

Grape varieties : Pinot noir, Chardonnay

Style : Champagne

Appellation : Champagne grand cru

Grape varieties : Pinot noir, Chardonnay

Style : Champagne

ok

Brut Millésimé

2015 - White wine

More infos

Appellation : Champagne appellation

Grape varieties : Pinot noir, Chardonnay

Style : Champagne

Appellation : Champagne appellation

Grape varieties : Pinot noir, Chardonnay

Style : Champagne

ok

Comtes de Champagne Blanc de Blancs

2012 - White wine

More infos

Appellation : Champagne grand cru

Grape variety : Chardonnay

Style : Champagne

Appellation : Champagne grand cru

Grape variety : Chardonnay

Style : Champagne

ok
See more wines
Prestige Rosé

Rosé wine

More infos

Appellation : Champagne appellation

Grape varieties : Pinot noir, Chardonnay, Pinot Meunier

Style : Rose Champagne

Appellation : Champagne appellation

Grape varieties : Pinot noir, Chardonnay, Pinot Meunier

Style : Rose Champagne

ok

Comtes de Champagne Rosé

2009 - Rosé wine

More infos

Appellation : Champagne appellation

Grape varieties : Pinot noir, Chardonnay

Style : Rose Champagne

Appellation : Champagne appellation

Grape varieties : Pinot noir, Chardonnay

Style : Rose Champagne

ok
Localisation
À la table de Thibaud IV - Champagne Taittinger, 20 rue de Tambour, 51100 Reims
Get my itinerary