Rue des vignerons
Book a visit & tasting at Château Lastours, Lisle sur Tarn in the South West wine region, France. ✔️Instant Confirmation ✔️On-site payment ✔️Free cancellation
About the winery
Located close to Albi, Toulouse and Montauban, the Château Lastours (Las Tours = "Les Tours" - the towers in French) is an old family owned winery, in the heart of the Gaillac wine appellation. Records dating from 1579 have been found and confirm that the Faramond family was already there at the winery.
We grow our 50 hectares
...
see more
Winery prices
Activities prices :

0

€ to

7.5

€
Wine prices :

6€ to 16€
Useful information
Languages spoken : English, French
Payment methods :

Credit card, Bank check, Cash
Disabled facilities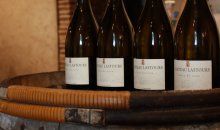 Tasting
Discovery of our wines
Commented tasting of our range of Gaillac wines : white, rosé and red
...
More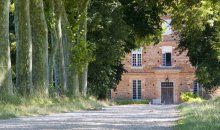 Tour and tasting
Château Lastours : a historical winery
Discover the history of the winery (castle, French gardens, dovecote), our winemaking process (visit of the vat house, barrel ageing cellars), and taste 7 wines
...
More
Winery wines
Blanc Perlé Les Graviers

2021 - White wine

6.50€

More infos

Appellation : Gaillac

Grape varieties : Sauvignon blanc, Len de l'El, Muscadelle, Sémillon

Style : Dry white, Fruity white

Appellation : Gaillac

Grape varieties : Sauvignon blanc, Len de l'El, Muscadelle, Sémillon

Style : Dry white, Fruity white

ok

Blanc Sec Les Graviers

2021 - White wine

6.50€

More infos

Appellation : Gaillac

Grape varieties : Sauvignon blanc, Len de l'El, Mauzac blanc, Muscadelle, Sémillon

Style : Dry white, Fruity white

Appellation : Gaillac

Grape varieties : Sauvignon blanc, Len de l'El, Mauzac blanc, Muscadelle, Sémillon

Style : Dry white, Fruity white

ok

Blanc Selection

2021 - White wine

8.50€

More infos

Appellation : Gaillac

Grape varieties : Sauvignon blanc, Len de l'El

Style : Dry white

Appellation : Gaillac

Grape varieties : Sauvignon blanc, Len de l'El

Style : Dry white

ok

Cuvée Claire de Lune

2020 - White wine

14€

More infos

Appellation : Gaillac

Grape variety : Mauzac blanc

Style : Dry white

Appellation : Gaillac

Grape variety : Mauzac blanc

Style : Dry white

ok
See more wines
Méthode Ancestrale Mauzac

2021 - White wine

9.50€

More infos

Appellation : Gaillac mousseux

Grape variety : Mauzac blanc

Style : White sparkling wine

Appellation : Gaillac mousseux

Grape variety : Mauzac blanc

Style : White sparkling wine

ok

Rouge Tradition

2019 - Red wine

7.50€

More infos

Appellation : Gaillac

Grape varieties : Cabernet Sauvignon, Merlot noir, Syrah, Braucol

Style : Light-bodied red, Fruity red

Appellation : Gaillac

Grape varieties : Cabernet Sauvignon, Merlot noir, Syrah, Braucol

Style : Light-bodied red, Fruity red

ok

Rouge Sélection

2019 - Red wine

9.50€

More infos

Appellation : Gaillac

Grape varieties : Cabernet Sauvignon, Duras, Merlot noir, Syrah, Braucol

Style : Fruity red, Full-bodied red

Appellation : Gaillac

Grape varieties : Cabernet Sauvignon, Duras, Merlot noir, Syrah, Braucol

Style : Fruity red, Full-bodied red

ok

Cuvée du Pigeonnier

2019 - Red wine

16€

More infos

Appellation : Gaillac

Grape varieties : Cabernet Sauvignon, Syrah, Braucol

Style : Fruity red, Full-bodied red

Appellation : Gaillac

Grape varieties : Cabernet Sauvignon, Syrah, Braucol

Style : Fruity red, Full-bodied red

ok

Rosé Les Graviers

2021 - Rosé wine

6.50€

More infos

Appellation : Gaillac

Grape varieties : Duras, Syrah

Style : Fruity rosé

Appellation : Gaillac

Grape varieties : Duras, Syrah

Style : Fruity rosé

ok

Méthode Ancestrale Rosé

2021 - Rosé wine

9.50€

More infos

Appellation : Gaillac

Grape variety : Duras

Style : Light-bodied rosé, Fruity rosé, Rosé sparkling wine

Appellation : Gaillac

Grape variety : Duras

Style : Light-bodied rosé, Fruity rosé, Rosé sparkling wine

ok
Localisation
Château Lastours, Lastours, 81310 Lisle sur Tarn
Get my itinerary