Rue des vignerons
Book a visit & tasting at Cognac Painturaud Frères distillery in the Poitou Charentes region, France. ✔️Instant Confirmation ✔️On-site payment ✔️Free cancellation
The distillery
We are a family-owned winery located in Segonzac, in the heart of the Grande Champagne, 1st cru of the AOC cognac. We have been developing our winery and our know-how for four generations and are one of the first families in Grande Champagne to have marketed our Cognacs and Pineaux in bottles.
Our desire (since our grandfather) is to offer
...
see more
Winery prices
Activities prices :

0

€ to

99

€
Drink prices :

11€ to 175€
Useful information
Languages spoken : English, French
Payment methods :

Credit card, Bank check, Cash

Kids area

Motorhome parking
Disabled facilities
Dogs allowed

Picnic area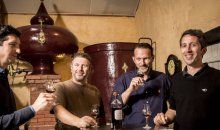 Tasting
Tasting at the foot of the still
At the foot of our ancestors still, discover our range of Cognac 1er Cru and Pineau des Charentes
...
More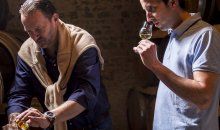 Tour and tasting
Discovery of the winery and tasting
Come and visit the winery to discover all the secrets of Cognac and Pineau production
...
More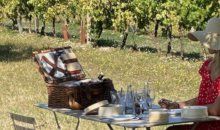 Tour and tasting
Smart picnic in the vineyards
Suspend time and savoure a picnic in the heart of the vineyards
...
More
Drinks
Pineau Blanc

White wine

12€

More infos

Appellation : Pineau des Charentes

Grape varieties : Colombard, Montils, Ugni blanc

Style : Sweet white

Appellation : Pineau des Charentes

Grape varieties : Colombard, Montils, Ugni blanc

Style : Sweet white

ok

Vieux Pineau Blanc

White wine

21€

More infos

Appellation : Pineau des Charentes

Grape varieties : Colombard, Montils, Ugni blanc

Style : Sweet white

Appellation : Pineau des Charentes

Grape varieties : Colombard, Montils, Ugni blanc

Style : Sweet white

ok

70cl

Cognac VSOP "Band of 4 Brothers"

White wine

29€

More infos

Appellation : Cognac

Grape variety : Ugni blanc

Style : Cognac VSOP

Appellation : Cognac

Grape variety : Ugni blanc

Style : Cognac VSOP

ok

70cl

Cognac Vieille Réserve

White wine

50€

More infos

Appellation : Cognac

Grape variety : Ugni blanc

Style : Cognac XO

Appellation : Cognac

Grape variety : Ugni blanc

Style : Cognac XO

ok
See more wines
70cl

Cognac Hors d'âge

White wine

99€

More infos

Appellation : Cognac

Grape variety : Ugni blanc

Style : Cognac XO

Appellation : Cognac

Grape variety : Ugni blanc

Style : Cognac XO

ok

50cl

Cognac Générations

White wine

180€

More infos

Appellation : Cognac

Grape variety : Ugni blanc

Style : Cognac Paradis

Appellation : Cognac

Grape variety : Ugni blanc

Style : Cognac Paradis

ok
Localisation
Cognac Painturaud Frères, 3, rue Pierre Gourry, 16130 Segonzac
Get my itinerary