Rue des vignerons
Book a visit & tasting at Mas de Daumas Gassac in the Languedoc wine region, France. ✔️Instant Confirmation ✔️On-site payment ✔️Free cancellation
About the winery
The Mas de Daumas Gassac is a family owned winery created by Aimé and Véronique Guibert in 1972.
It is located in Aniane in the Gassac Valley (in the Hérault department of France).
Its wines (red, white and rosé) are not following any specific wine appellation principles.
The reason we chose to work that way is that we produce our wines
...
see more
Winery prices
Activities prices :

Free

0

Wine prices :

8€ to 130€
Useful information
Languages spoken : English, French
Payment methods :

Credit card, Bank check, Cash, American Express

Kids area
Motorhome parking
Disabled facilities
Dogs allowed
Picnic area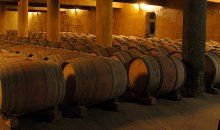 Tour and tasting
Discovery of Daumas Gassac
Come discover the rich history of the winery, the secrets of its winemaking process through a tour in vat house and the underground cellars, followed by a tasting
...
More
Winery wines
Guilhem Blanc

2022 - White wine

8.50€

More infos

Appellation : IGP Pays d'Hérault

Grape varieties : Sauvignon blanc, Roussanne, Rolle

Style : Fruity white

Appellation : IGP Pays d'Hérault

Grape varieties : Sauvignon blanc, Roussanne, Rolle

Style : Fruity white

ok

Mas de Daumas Gassac Blanc

2021 - White wine

53€

More infos

Appellation : IGP Saint Guilhem le Desert

Grape varieties : Chardonnay, Chenin, Petit manseng, Viognier

Style : Fruity white

Appellation : IGP Saint Guilhem le Desert

Grape varieties : Chardonnay, Chenin, Petit manseng, Viognier

Style : Fruity white

ok

Guilhem Rouge

2022 - Red wine

8.50€

More infos

Appellation : IGP Pays d'Hérault

Grape varieties : Grenache noir, Syrah

Style : Fruity red

Appellation : IGP Pays d'Hérault

Grape varieties : Grenache noir, Syrah

Style : Fruity red

ok

Mas de Daumas Gassac Rouge

2020 - Red wine

53€

More infos

Appellation : IGP Saint Guilhem le Desert

Grape variety : Cabernet Sauvignon

Style : Full-bodied red

Appellation : IGP Saint Guilhem le Desert

Grape variety : Cabernet Sauvignon

Style : Full-bodied red

ok
See all
Guilhem Rosé

2022 - Rosé wine

8.50€

More infos

Appellation : IGP Pays d'Hérault

Grape varieties : Cinsaut, Grenache noir, Syrah

Style : Light-bodied rosé

Appellation : IGP Pays d'Hérault

Grape varieties : Cinsaut, Grenache noir, Syrah

Style : Light-bodied rosé

ok

Rosé Frizant

2022 - Rosé wine

16.50€

More infos

Appellation :

Grape variety : Cabernet Sauvignon

Style : Rosé sparkling wine

Appellation :

Grape variety : Cabernet Sauvignon

Style : Rosé sparkling wine

ok
Localisation
Mas de Daumas Gassac, Haute Vallée du Gassac, 34150 Aniane
Get my itinerary