Rue des vignerons
Book a visit & tasting at Clos de l'Amandaie in the Languedoc Roussillon wine region, France. ✔️Instant Confirmation ✔️On-site payment ✔️Free cancellation
About the winery
The Clos de l'Amandaie is located in the Aumelas commune, at the heart of the Grès de Montpellier garrigue, in the cooler area of the appellation. At the foot of a mineral landscape of the Mediterranean region and in the midst of a rich vegetation, its geographical location is particularly noteworthy.
It is the Peytavy Family which takes care
...
see more
Winery prices
Activities prices :

0

€ to

6

€
Wine prices :

7€ to 25€
Useful information
Languages spoken : English, French
Payment methods :

Credit card, Cash

Kids area

Motorhome parking
Disabled facilities

Dogs allowed

Picnic area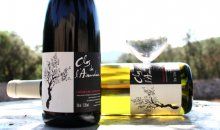 Tasting
Discovery tasting
Come and discover the whole range of our wines (white, red, rosé) at the estate's cellar
...
More
Tour and tasting
Come and discover our work !
Visit of the vineyard and of the cellar with detailed explanations to discover the work of a winemaker. Followed by a commented tasting of our different wine ranges (white, red and rosé).
...
More
Winery wines
Chat Pitre blanc

2018 - White wine

7€

More infos

Appellation : IGP Pays d'Oc

Grape varieties : Grenache blanc, Vermentino

Style : Fruity white

Appellation : IGP Pays d'Oc

Grape varieties : Grenache blanc, Vermentino

Style : Fruity white

ok

Amandaie blanc

2018 - White wine

12€

More infos

Appellation : Languedoc

Grape varieties : Grenache blanc, Roussanne

Style : Dry white

Appellation : Languedoc

Grape varieties : Grenache blanc, Roussanne

Style : Dry white

ok

Huis Clos blanc

2016 - White wine

19€

More infos

Appellation : Languedoc

Grape varieties : Grenache blanc, Roussanne

Style : Dry white

Appellation : Languedoc

Grape varieties : Grenache blanc, Roussanne

Style : Dry white

ok

50cl

Vendange Tardive Les Ménades

2014 - White wine

25€

More infos

Appellation : Ajaccio

Grape variety : Petit manseng

Style : Sweet white

Appellation : Ajaccio

Grape variety : Petit manseng

Style : Sweet white

ok
See all
Chat Pitre Rouge

2018 - Red wine

7€

More infos

Appellation : IGP Pays d'Oc

Grape varieties : Cinsaut, Grenache noir, Syrah

Style : Light-bodied red

Appellation : IGP Pays d'Oc

Grape varieties : Cinsaut, Grenache noir, Syrah

Style : Light-bodied red

ok

Amandaie Rouge

2017 - Red wine

12€

More infos

Appellation : Languedoc Grès de Montpellier

Grape varieties : Carignan noir, Cinsaut, Grenache noir, Syrah

Style : Fruity red

Appellation : Languedoc Grès de Montpellier

Grape varieties : Carignan noir, Cinsaut, Grenache noir, Syrah

Style : Fruity red

ok

Huis Clos Rouge

2017 - Red wine

19€

More infos

Appellation : Languedoc Grès de Montpellier

Grape varieties : Grenache noir, Syrah

Style : Full-bodied red

Appellation : Languedoc Grès de Montpellier

Grape varieties : Grenache noir, Syrah

Style : Full-bodied red

ok

Chat Pitre Rosé

2018 - Rosé wine

7€

More infos

Appellation : IGP Pays d'Oc

Grape varieties : Cinsaut, Grenache noir, Syrah

Style : Fruity rosé

Appellation : IGP Pays d'Oc

Grape varieties : Cinsaut, Grenache noir, Syrah

Style : Fruity rosé

ok
Localisation
Clos de l'Amandaie, Route de Montpellier, 34230 Aumelas
Get my itinerary