Rue des vignerons
Book a visit & tasting at Vignoble Vincent in the Poitou Charentes wine region, France. ✔️Instant Confirmation ✔️On-site payment ✔️Free cancellation
The distillery
Vineyard in the heart of Oléron island, Christophe Vincent welcomes you within his 47 hectare winery in Saint Pierre d'Oléron. Thanks to his vines, he produces with passion pineaux des Charentes, cognac and flavoured cognac-based liquors and a wide and surprising range of local Charente wines. All this thanks to "reasoned" cultivation.
Winery prices
Activities prices :

Free

0

Drink prices :

4€ to 6€
Useful information
Languages spoken : French
Payment methods :

Credit card, Bank check, Cash

Kids area

Motorhome parking
Disabled facilities

Dogs allowed

Picnic area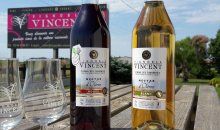 Tasting
Discovery of the winery's grape varieties
Come discover and taste our wines, pineaux, cognacs, liquors and grape juices all year round.
...
More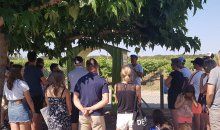 Tour and tasting
Gourmet visit
Discover the winegrower's profession through a visit of our winery and a tasting of our products.
...
More
Sauvignon "L'élégant"

White wine

4.25€

More infos

Appellation : IGP Charentais

Grape variety : Sauvignon blanc

Style : Fruity white

Appellation : IGP Charentais

Grape variety : Sauvignon blanc

Style : Fruity white

ok

Pineau des Charentes "Nectar d'Oléron"

White wine

8.30€

More infos

Appellation : Pineau des Charentes

Grape varieties : Colombard, Ugni blanc

Style : Sweet white

Appellation : Pineau des Charentes

Grape varieties : Colombard, Ugni blanc

Style : Sweet white

ok

70cl

Cognac VS

White wine

24.50€

More infos

Appellation : Cognac

Grape variety : Ugni blanc

Style : Cognac VS

Appellation : Cognac

Grape variety : Ugni blanc

Style : Cognac VS

ok

Rouge fût "L'audacieux"

Red wine

6.20€

More infos

Appellation : IGP Charentais

Grape variety : Merlot noir

Style : Full-bodied red

Appellation : IGP Charentais

Grape variety : Merlot noir

Style : Full-bodied red

ok
See more wines
Pineau des Charentes "Nectar d'Oléron"

Red wine

8.30€

More infos

Appellation : Pineau des Charentes

Grape variety : Merlot noir

Style : Sweet red

Appellation : Pineau des Charentes

Grape variety : Merlot noir

Style : Sweet red

ok

Rosé "L'enchanteur"

Rosé wine

4.25€

More infos

Appellation : IGP Charentais

Grape varieties : Cabernet franc, Merlot noir

Style : Fruity rosé

Appellation : IGP Charentais

Grape varieties : Cabernet franc, Merlot noir

Style : Fruity rosé

ok
Localisation
Vignoble Vincent, 73 route des chateliers, 17310 St Pierre d'Oléron
Get my itinerary