Rue des vignerons
Book a visit & tasting at Domaine de Belle Mare in Languedoc-Roussillon wine region, France. ✔️Instant Confirmation ✔️On-site payment ✔️Free cancellation
Tasting
Tour
Tasting course
About the winery
In the heart of the wild and authentic Languedoc wine region, discover this family-owned winery and its 68 hectares vineyard, which combine Languedoc character with salty air.
We would be happy to welcome you to visit our winery, the vineyard, the vat house and the cellar, and taste the famous Picpoul de Pinet, our Languedoc designation wine or
...
see more
Winery prices
Activities prices :

0

€ to

50

€
Wine prices :

6€ to 18€
Useful information
Languages spoken : English, French
Payment methods :

Credit card, Bank check, Cash

Kids area
Motorhome parking
Disabled facilities

i

- Developmental disabilities


- Developmental disabilities


ok

Dogs allowed

Picnic area
Activities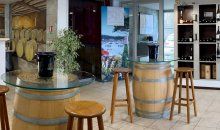 Tasting
Discovery of our wines
Commented tasting of 3 wines of your choice in our tasting room
...
More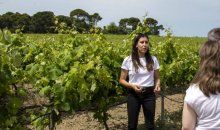 Tour and tasting
Guided tour of the estate
Guided tour of the estate (vineyard on the banks of the Etang de Thau, vat room and barrel cellar - 30 minutes), commented tasting of 3 wines
...
More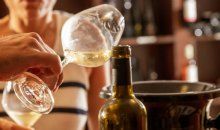 Tasting course
Assembly workshop
Curious or amateurs, create the perfect blend and leave with your bottle labeled with your name. You also benefit from a visit of the domain and the tasting of our wines
...
More
Winery wines
Le Sauvignon

White wine

6€

More infos

Appellation : IGP Pays d'Oc

Grape variety : Sauvignon blanc

Style : Dry white

Appellation : IGP Pays d'Oc

Grape variety : Sauvignon blanc

Style : Dry white

ok

Le Chardonnay

White wine

6€

More infos

Appellation : IGP Pays d'Oc

Grape variety : Chardonnay

Style : Dry white

Appellation : IGP Pays d'Oc

Grape variety : Chardonnay

Style : Dry white

ok

Le Viognier

White wine

6€

More infos

Appellation : IGP Pays d'Oc

Grape variety : Viognier

Style : Dry white, Fruity white

Appellation : IGP Pays d'Oc

Grape variety : Viognier

Style : Dry white, Fruity white

ok

Le Muscat sec

White wine

6€

More infos

Appellation : IGP Pays d'Oc

Grape variety : Muscat à petits grains blanc

Style : Dry white

Appellation : IGP Pays d'Oc

Grape variety : Muscat à petits grains blanc

Style : Dry white

ok
See all
DUO

White wine

6.50€

More infos

Appellation : IGP Pays d'Oc

Grape varieties : Chardonnay, Vermentino

Style : Dry white, Fruity white

Appellation : IGP Pays d'Oc

Grape varieties : Chardonnay, Vermentino

Style : Dry white, Fruity white

ok

AOP Picpoul de Pinet

White wine

7.50€

More infos

Appellation : Picpoul de Pinet

Grape variety : Piquepoul blanc

Style : Dry white

Appellation : Picpoul de Pinet

Grape variety : Piquepoul blanc

Style : Dry white

ok

Le Rivage

White wine

9.50€

More infos

Appellation : IGP Pays d'Oc

Grape varieties : Chardonnay, Roussanne, Viognier

Style : Dry white

Appellation : IGP Pays d'Oc

Grape varieties : Chardonnay, Roussanne, Viognier

Style : Dry white

ok

AOP Picpoul de Pinet - Sélection Patience

White wine

18€

More infos

Appellation : Picpoul de Pinet

Grape variety : Piquepoul blanc

Style : Dry white

Appellation : Picpoul de Pinet

Grape variety : Piquepoul blanc

Style : Dry white

ok

Le Merlot

Red wine

6€

More infos

Appellation : IGP Pays d'Oc

Grape variety : Merlot noir

Style : Fruity red

Appellation : IGP Pays d'Oc

Grape variety : Merlot noir

Style : Fruity red

ok

Le Cabernet Sauvignon

Red wine

6€

More infos

Appellation : IGP Pays d'Oc

Grape variety : Cabernet Sauvignon

Style : Fruity red

Appellation : IGP Pays d'Oc

Grape variety : Cabernet Sauvignon

Style : Fruity red

ok

La Syrah

Red wine

6€

More infos

Appellation : IGP Pays d'Oc

Grape variety : Syrah

Style : Fruity red

Appellation : IGP Pays d'Oc

Grape variety : Syrah

Style : Fruity red

ok

DUO

Red wine

6.50€

More infos

Appellation : IGP Pays d'Oc

Grape varieties : Cabernet Sauvignon, Syrah

Style : Fruity red

Appellation : IGP Pays d'Oc

Grape varieties : Cabernet Sauvignon, Syrah

Style : Fruity red

ok

Le Rivage

Red wine

9.50€

More infos

Appellation : IGP Pays d'Oc

Grape varieties : Cabernet Sauvignon, Merlot noir, Syrah

Style : Full-bodied red

Appellation : IGP Pays d'Oc

Grape varieties : Cabernet Sauvignon, Merlot noir, Syrah

Style : Full-bodied red

ok

AOP Languedoc

Red wine

10€

More infos

Appellation : Languedoc

Grape varieties : Grenache noir, Syrah

Style : Full-bodied red

Appellation : Languedoc

Grape varieties : Grenache noir, Syrah

Style : Full-bodied red

ok

DUO

Rosé wine

6.50€

More infos

Appellation : IGP Pays d'Oc

Grape varieties : Cinsaut, Grenache blanc

Style : Light-bodied rosé, Fruity rosé

Appellation : IGP Pays d'Oc

Grape varieties : Cinsaut, Grenache blanc

Style : Light-bodied rosé, Fruity rosé

ok

Le Rivage - Rosé

Rosé wine

9.50€

More infos

Appellation : IGP Pays d'Oc

Grape variety : Grenache noir

Style : Fruity rosé

Appellation : IGP Pays d'Oc

Grape variety : Grenache noir

Style : Fruity rosé

ok
Localisation
Domaine de Belle Mare, D 18, Route des Salins, 34140 Mèze
Get my itinerary